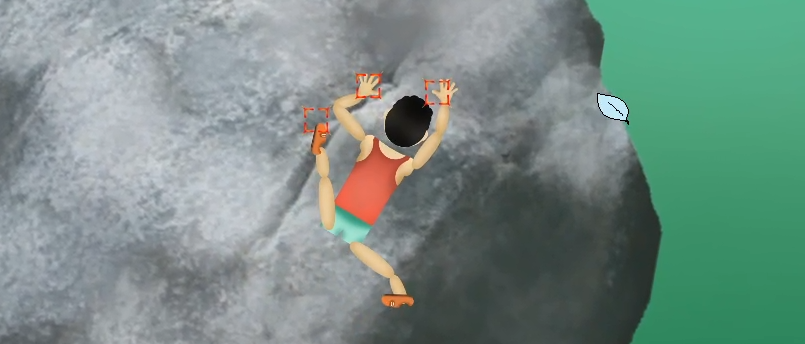 Free Solo: The DLC of Trash

Weekly Game Jam 146 &
Untitled Game Jam 22 Submission
A delicious and forbidden piece of cake sits atop a mountain, what you must do is clear.

To climb the mountain, hold A, S, D, or F to control your arms and feet. While holding a key, move the mouse in the direction you want those limbs to move.
When you see a green box appear, you have found a grip spot. Left click to anchor your limbs to these grip spots.
You can also press space to stiffen your legs and push yourself up.
The DLC of Trash is released!
New Game Mode: Someone left trash all over the mountain and it's our duty to keep nature trash free! Armed with your trusty chalk bag, you embark on a journey upwards to rid the mountain of it's filth.
Test your climbing skills with the all new "HardMode". A mode aimed at making the climb more challenging! Look to the heavens for cakes which are not lies.
We wish you as much fun playing our game as we had fun making it.
Credits:
Project Lead/Design & Programming
Rumpelstompskin
2D Art
Atkami
UI/Design & Programming
Drunkenseagull


Third-party assets

Music:
www.bensound.com
Background ambiance SFX:
www.freesfx.co.uk
Font:
Marwah Store by Alexe Crisna
Textures:
https://www.poliigon.com/
https://www.publicdomainpictures.net
https://www.needpix.com / Charles Rondeau
Download